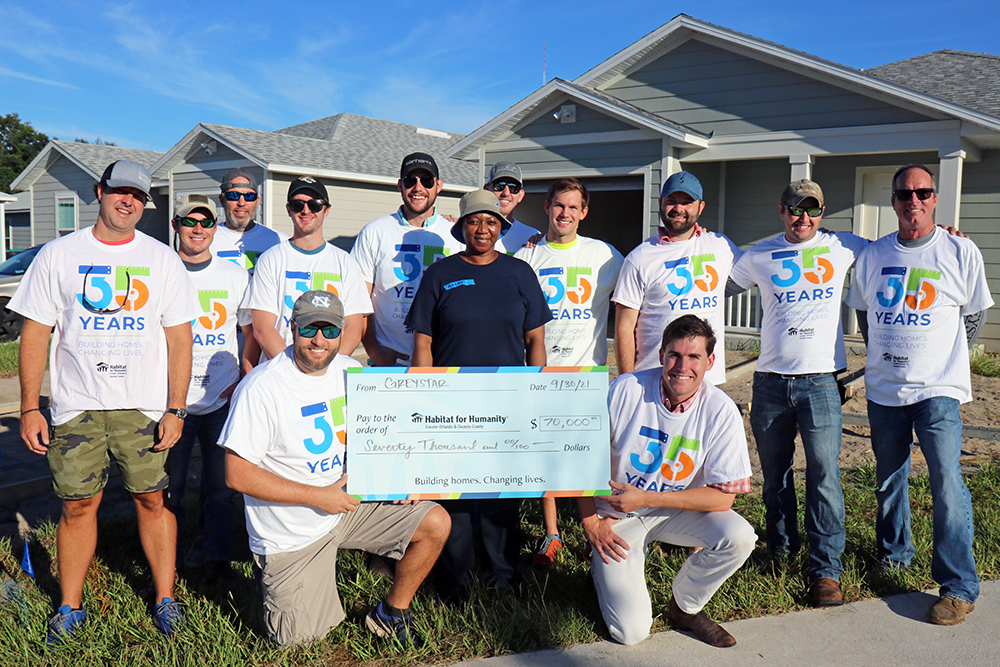 Volunteer groups are back on the Habitat Orlando & Osceola build site, and Greystar kicked off opening day in a big way — They presented us with a $70,000 donation, which was raised from individuals and companies involved with Greystar's business activities in Orlando to celebrate the success of their most recent projects.
Greystar, a privately held firm headquartered in Charleston, South Carolina, develops, property manages and invests in the multifamily space and other asset classes around the country and around the globe. They recently finished the Overture Hamlin community, and they are finishing construction on Elan Ruby Lake community in Orlando.
A group of volunteers from Greystar helped with site prep by moving siding and taking down fencing.  They also did some carpentry work, hanging doors in homes under construction at the build site at Silver Pines Pointe on Sept. 30. There, we caught up with Lewis Stoneburner Jr., Managing Director of Greystar's Florida Development and Construction business, to talk about why the firm decided to support Habitat.
"I would say Habitat has one of the best missions," Stoneburner said. "We look for organizations that are organized and have a track record of success that can put money to work and really impact the communities, and Habitat does all those things."
Building community through peer-to-peer fundraising
About four years ago, he said Greystar was looking for a way to give back to the communities where it was developing and building through a combination of fundraising, volunteering, and raising awareness. A team set out to find a "best-in-class nonprofit" whose mission not only resonated with Greystar but with its vendors and subcontractors. Habitat for Humanity was that perfect fit.
Over the last three years, the firm has raised about $175,000 for Habitat, between our Orlando affiliate and one in South Florida, through peer-to-peer fundraising campaigns that include Greystar employees as well as firms they work with on their development projects: architects, lawyers, engineers, subcontractors, vendors, consultants, etc.
Last year, they raised $34,000 for Habitat Orlando & Osceola. This year, their goal was $50,000 – they blew that out of the water by more than $20,000. Greystar donated $10,000 and then 35 individuals and firms donated on the custom peer-to-peer fundraising page.
"Through a fundraiser on each project, we're able to have everybody give back a little bit, and it's been super successful," Stoneburner said. "We're really proud of what we've been able to do with Habitat and really proud of our organization and mission overall."
'Part of being successful is giving back'
Community is one of Greystar's six pillars of excellence. Volunteering on the build site benefits Greystar's employees because they realize that part of being successful is giving back, he said.
On top of that, the team got to volunteer alongside a future Habitat homeowner.
"Seeing the homeowners who are able to have a home here where otherwise they wouldn't be able to is incredibly rewarding," he said. "To know that we're just playing a little small part to kind of give back is really rewarding to everybody."
In addition to making a positive impact in the community, he said the campaign has been great for team building and strengthening relationships with its partners. "I'd encourage it for anybody who's in this space," he said.
About Greystar:
Greystar is a leading, fully integrated real estate company offering expertise in investment management, development, and management of rental housing properties globally. Headquartered in Charleston, South Carolina, Greystar manages and operates an estimated $220 billion of real estate in more than 210 markets globally including offices throughout the United States, United Kingdom, Europe, South America, and the Asia-Pacific region. Greystar is the largest operator of apartments in the United States, manages more than 748,000 units/beds, and has a robust institutional investment management platform with approximately $45.1 billion of assets under management, including over $21.3 billion of assets under development. Greystar was founded by Bob Faith in 1993 with the intent to become a provider of world-class service in the rental residential real estate business. To learn more, visit www.greystar.com.
---
Learn more about peer-to-peer fundraising and other corporate sponsorship opportunities here.