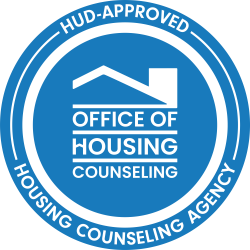 Habitat for Humanity Greater Orlando & Osceola County is a HUD-approved housing counseling agency!
We provide FREE one-on-one housing counseling and guidance to Central Floridians who want to purchase a home or maintain their home (a small fee for a credit report may apply).
We also provide a First-time Homebuyer Workshop, a FREE HUD-approved 8-hour certificate class for those who are ready to take the first step toward homeownership.
Learn more about our services below! 
ONE-ON-ONE HOUSING COUNSELING
Our Housing Counseling program

provides

counseling to consumers on

seeking

, financing,

maintaining

,

or owning a home. Our HUD-certified Housing Advisors can provide you with one-on-one housing counseling and guidance to help you achieve your goals. This guidance is based on

y

our

need

, plus your current and future financial capability.
Our Housing Advisors can assist you with: 
Pre-purchase/Homebuying Counseling (for Habitat's Homeownership Program or a traditional mortgage)

Financial Management/Budget Counseling

Foreclosure Intervention and Prevention

Pre-purchase Homebuyer Education Workshops

And more!
Watch this short video to learn more about your journey to homeownership:
HOW TO GET STARTED WITH HOUSING COUNSELING
SIGN UP
Tell us a little about yourself and the services you're interested in by filling out a short form.
COMPLETE INTAKE PACKET
Within a few days, we'll email you a packet to fill out. You'll submit it along with some documents.
MAKE AN APPOINTMENT
After you submit your information, we'll reach out to book your counseling appointment.
ATTEND YOUR FIRST COUNSELING SESSION
Sit down with one of our HUD-certified housing counselors to make a plan. You're on your way to achieving your housing goals!
Tell us more about yourself so we can get you scheduled with one of our certified HUD Housing Counselors.
FIRST-TIME HOMEBUYER WORKSHOP
Ready to take your first step into homeownership? Join us for a FREE First-time Homebuyer Workshop (FTHBW) where you will learn what it takes to become homebuyer ready!
During this HUD-approved, 8-hour certificate class, you will learn about: 
Financial readiness

 

Credit

 

Shopping for lenders and mortgages

 

Down-payment assistance programs

 

Working with realtors

 

Homeowners' insurance

 

Home maintenance & inspection

 

What a home title is

 

How to apply for homestead exemption

 

Fair housing

 

and much more!

 
This interactive workshop allows you to engage and ask questions.