Habitat for Humanity Greater Orlando & Osceola County believes everyone deserves a safe, affordable home.
Since 1986, we have built, rehabbed, or repaired over 700 homes throughout Central Florida
We help people build strength, stability, and independence through new homeownership, homeowner education, and home repair programs.
Providing and keeping Central Floridians in safe, affordable housing directly benefits their physical, mental, and emotional health, as well as our regional economy.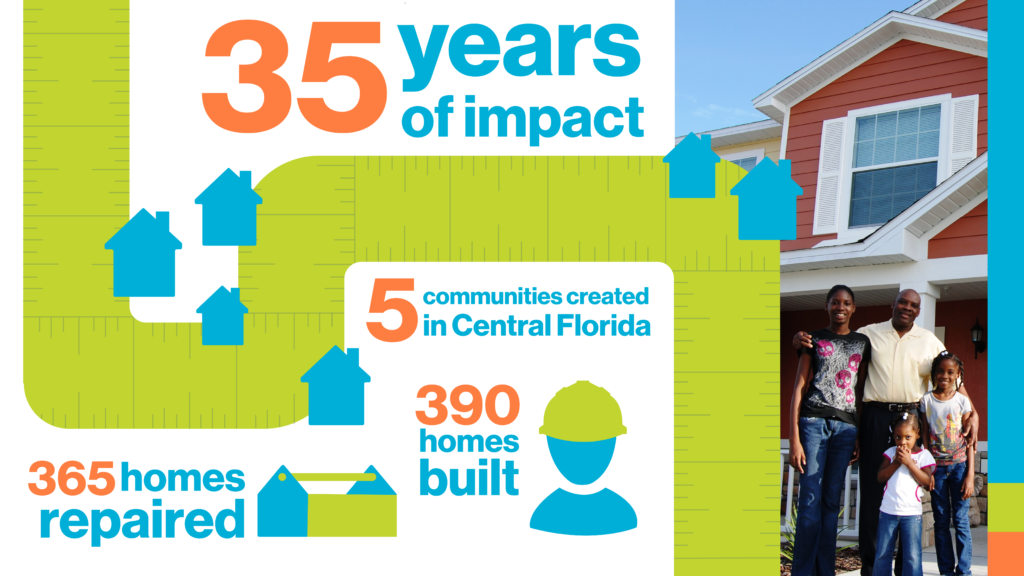 Building Broad-Based Prosperity™: A Position Paper Calling for an Evolution of Today's Housing Policies
As we celebrate our accomplishments over the past 35 years, we are also engaged more boldly than ever before in finding solutions to Central Florida's affordable housing crisis.
Read the first of our Building Broad-Based Prosperity™ position papers. Let's spark dialogue and drive progress toward more affordable housing.
35 years of building homes and changing lives
Take an interactive walk with us through 35 years of milestones:
Meet some of our homeowners
Ruthie
Habitat future homeowner
For future homeowner Ruthie, a Habitat home will bring security and peace of mind to her family. Ruthie, who is retired, has dealt with years of price hikes while renting. She's looking forward to the stability of owning her own safe, affordable home.
Edith
Habitat homeowner since 2001
Habitat homeownership is a family affair for Edith — her sister referred her to the program and her daughter became a Habitat homeowner at 25. "I love being a homeowner because (my home) is mine. It's something that belongs to me. I take pride in it," she said.
Meet some of our supporters
Howard Abell
Supporter since 2010
Abell is committed to helping others have the same opportunities that he had. "I've been fortunate to live in a home and have all those things that others may not be able to afford," he said, "and if we want this world to be a better place, we have to give those opportunities to everyone."
Metrie
Supporter since 2021
"It was easy for me to identify Habitat for Humanity to support their efforts in converting for families of need what would otherwise only be the dream of homeownership to reality." — Bill Cody, key account manager, Metrie
A safe, affordable home provides more than shelter. It provides the stability and security needed for local families to thrive. When a Habitat family opens their front door for the first time, they unlock the ability to change and improve their futures.
Thanks to the generosity and support of our community, Habitat Orlando & Osceola has helped thousands of people in Central Florida have a place to call their own. We want to continue and expand on that impact. Join us for another 35 years of changing local lives and support our mission with a gift of support.