After days of eating, visiting and shopping, the Tuesday after Thanksgiving is dedicated to Giving.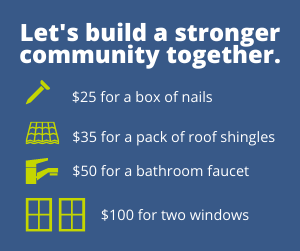 This year, that day falls on Dec. 1, 2020. Here at Habitat for Humanity Greater Orlando & Osceola County, we're calling it Giving TOOLS-day – an opportunity to fund the tools and supplies needed to build and repair homes and give hope to our neighbors in need.
Your gift on Giving Tuesday is the simple hand up that deserving families need to build a home of safety, stability, aspirations, and expanding possibilities.
Generosity gives everyone the power to make a positive change in the lives of others and is a fundamental value anyone can act on. Let's keep building a strong Central Florida together. Please donate as generously as you can!
Want to see the effects of your donation?
Venessa and Dominique are our newest homeowners. The couple is working toward giving their young family better than their current substandard housing.
Alethia recently achieved stability for her family by becoming the proud homeowner of a Habitat Orlando & Osceola house.
Adrienne recently met her goal of homeownership. She hopes it's just the first step toward an amazing future for her and her family.
Thank you for your support!