Rhonza moved into her Habitat for Humanity Greater Orlando & Osceola County home about three years ago.
At the time, Rhonza was a recent nursing school graduate and a local hospital employee. She chose to sleep on the couch so her three youngest sons could have their own space in a two-bedroom townhouse – all she could afford at the time.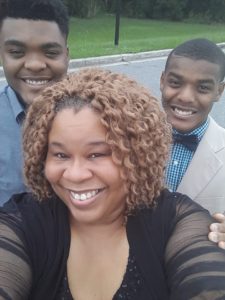 Rhonza is now a palliative hospice nurse with dreams of opening her own hospice. In this home, the mother of four has seen her sons thrive, setting goals and aspirations of their own.
"It all came through us moving here and to this area," Rhonza said.
Her two eldest sons have since started their careers and moved into their own apartments.
Rhonza's twin sons – her youngest – are seniors in high school. Shon recently joined the Elevation Scholars, a program that prepares high-achieving students from low-income families for acceptance into selective colleges and universities. Rhon may follow his veteran mother's footsteps and join the military.
"It's a blessing to have a nest that everyone can come to," she said.
Their journey to homeownership wasn't easy. Like many Habitat Orlando & Osceola future homeowners, Rhonza balanced parenthood, work, and higher education with Habitat's partnership requirements of sweat equity and homeownership education classes.
Her hard work was worth it in the end.
"When I look out my kitchen window now, I can say, 'Hallelujah. Thank you, Jesus,'" Rhonza said. "I just get tears in my eyes."
The benefits of homeownership extend far beyond Rhonza's own family, however.
As a homeowner in Habitat Orlando & Osceola's Butler's Preserve community, Rhonza feels like she has a voice in her area.
"Butler's Preserve has helped transform the surrounding neighborhood into a safer, cleaner place to live," Rhonza said.
"Everyone has taken pride in the community. It's nice to see how it has evolved."
---
Central Florida ranks worst in the nation for affordable housing. This is unacceptable – and at Habitat Orlando & Osceola, we are doing all we can to change that. Learn more about the impacts of homeownership for families like Rhonza's.